The urgency of tackling climate change has never been greater and the need for innovative solutions is urgent. In this context, ALDA (European Association for Local Democracy) is pleased to invite you to the upcoming International Event on Green Mobility in Strasbourg, as part of the EU24 – Engage for the Planet project. This event aims to stimulate insightful discussions on climate change issues and provide a platform for diverse voices, especially underrepresented ones, to contribute their perspectives.
Mark your calendars for this pivotal event where we will engage in constructive dialogues on climate change, with a special focus on green and sustainable mobility. Our aim is to empower and amplify the voices that have traditionally been marginalised in the climate change debate.
We invite you to take this opportunity to be part of a global conversation and engage with international participants, experts and advocates dedicated to tackling one of the greatest challenges of our time.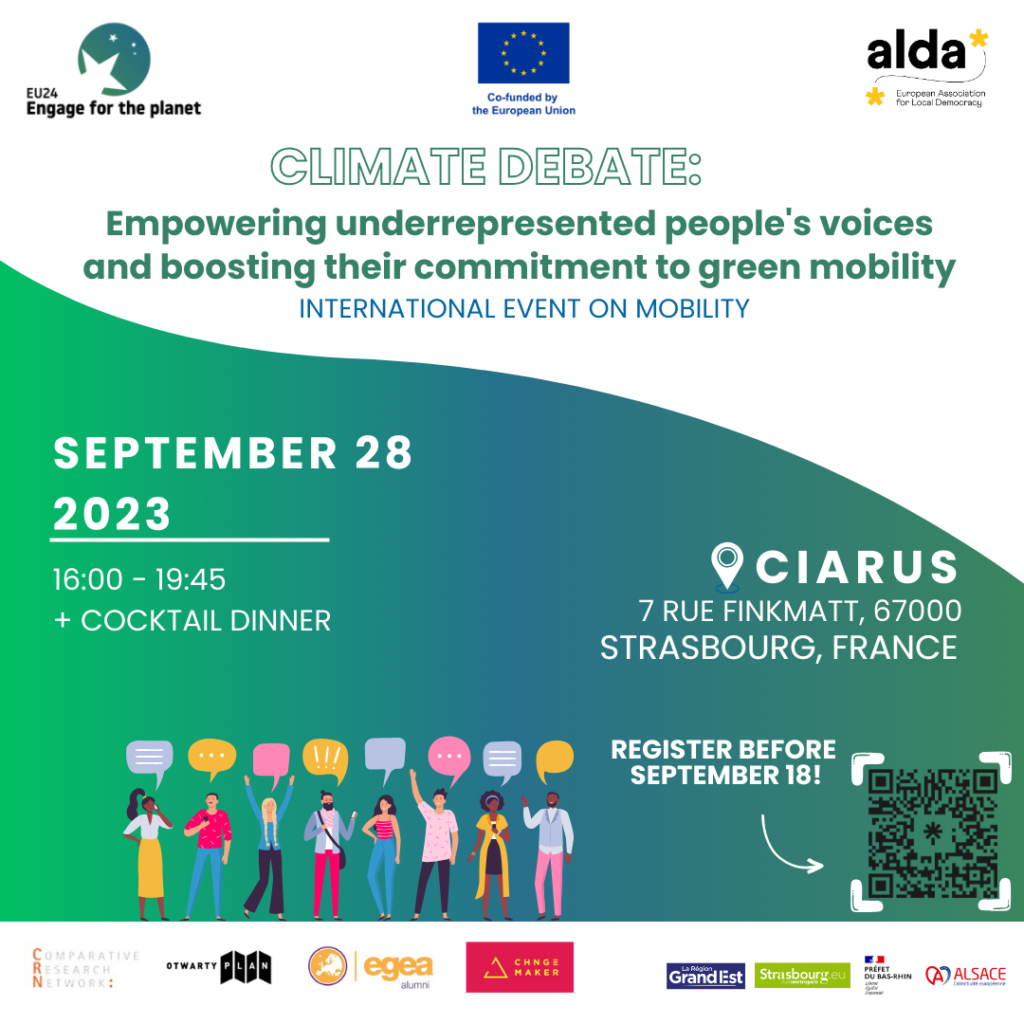 Why your voice matters
The climate crisis affects us all, regardless of our background, age or nationality. It is imperative that we hear from a wide range of voices in order to develop comprehensive and effective solutions. We welcome citizens from all walks of life, young people who are the stewards of our planet's future, people from different cultural backgrounds and mobile citizens of the European Union to come forward and share their opinions and innovative ideas on how to effectively combat climate change. Your perspective matters and together we can make a difference. By working together, we can shape a more sustainable future for ourselves and for generations to come.
Join us in Strasbourg (France)!
On 28 September 2023, we invite you to join us for an enlightening and inspiring event at the CIARUS Hostel in the beautiful city of Strasbourg, France. We will soon be releasing the detailed agenda for the event, providing full information on the sessions, distinguished speakers and topics to be explored. Be prepared for engaging discussions and thought-provoking insights that can drive positive change!
---
Financial support for participants
Thanks to the generous support of the European Association for Local Democracy (ALDA) and the Citizens, Equality and Rights and Values Programme (CERV), we are pleased to be able to offer selected participants financial support for accommodation and travel. If you require financial support to attend this event, please indicate your interest in the registration form. However, please note that the availability of travel assistance is limited to 10 participants, with priority given to those travelling from outside France.
Click here to access the registration form!
Details:
Date: 28 September 2023 (Thursday)
Venue: CIARUS Hostel, 7 rue Finkmatt, 67000 Strasbourg, France
Agenda for the International Event on Green Mobility
16:00 – Registration
16:30 – Official Opening of the Conference
17:00 – Engaging Youth and Underrepresented Voices into the European Climate Debate- keynote speeches and Q&A session
AGENCE DU CLIMAT- Eurométropole de Strasbourg: Chloé MOTHU School ecomobility and Victor DOUILLY Mobility in the urban policy district – focus on green and sustainable mobility
Youth and Environment Europe:
17:45 – 19:00 – Climate Debate: Giving Underrepresented a Voice on Green Mobility: Group Debates
19:00 – 19:35 – Plenary Restitution
19:35 – 19:45 – Wrap Up and Final Conclusions
19:45 – 21:00 – Cocktail Dinner
Get in touch!
If you have any questions or require further information about the event, please do not hesitate to contact us:
Cristina Mariani at cristina@alda-europe.eu
We look forward to your participation in this important event, where your voice can be a catalyst for change.